Meet our OTDR series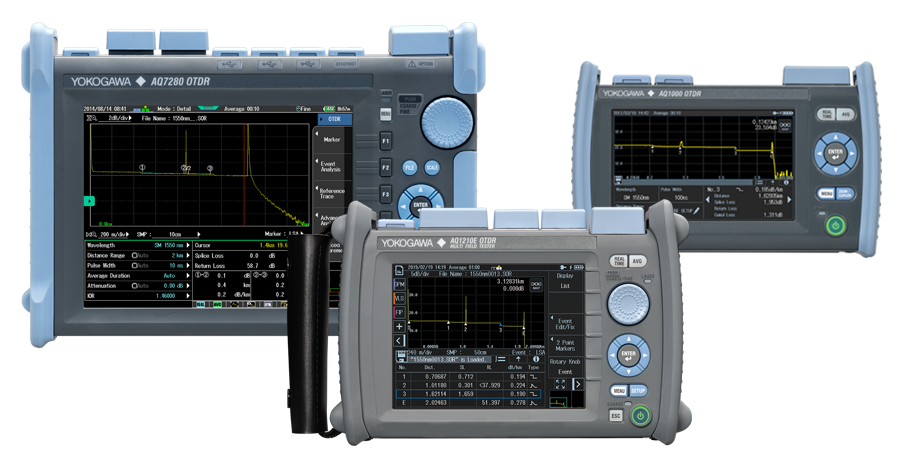 AQ7280 Modular OTDR
The AQ7280 is the most flexible OTDR in our lineup due to a modular platform to create a variety of systems from a basic unit to units with filtered ports to test live traffic networks in applications from long haul, to metro, core and FTTH.
AQ1210 Series OTDR
The Yokogawa AQ1210 series OTDR is designed to empower field technicians to make fast and precise measurements with confidence. The AQ1210 OTDR delivers high reliability with its robust design for operating under harsh field conditions.
AQ1000 Entry Level OTDR
This AQ1000 is specifically designed to increase the productivity of field personnel working on the installation and deployment of optical access networks such as Fiber To The Home (FTTH).
Due to the widespread use of mobile devices and the Internet, the importance of optical fiber networks to accommodate the increasing communication traffic is growing rapidly.
Installation and maintenance of optical fiber networks require a measuring instrument with high productivity and an intuitive interface as well as high quality measurement results and high reliability.
Yokogawa, as a 100+ year instrumentation manufacturer, delivers OTDRs (Optical Time Domain Reflectometer) based on our measuring technologies developed since the early days of optical fiber communication and 38+ years of experience in optical test & measurement solutions for real world lab and field testing.